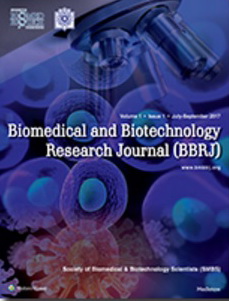 Biomedical and Biotechnology Research Journal (BBRJ), a publication of Society of Biomedical & Biotechnology Scientists (https://www.sbbs-soc.com), is a peer-reviewed online journal with print on demand compilation of issues published.
---
SBBS mission is to promote safe, sustainable and beneficial use of the life sciences, in order to promote research and innovation in biomedical and biotechnology to provide a forum for interdisciplinary and international cooperation, to enhance science education and to promote informed dialogue between scientists and the public.
---
  
Development of tracheal reconstruction methods from scaffold engineering 
to injectable matrix.
Liposomes as potential nanocarriers for theranostic applications in chronic flammatory lung diseases