The Interrogator system links ten organs-on-chips to predict how a human body metabolizes drugs
Scientists have just announced the completion of an eight-year-long project to integrate 10 human organs-on-chips in an automated system to study how drugs work in the body. The technology provides an alternative to testing drugs on humans or other animals.
Referred to as the "Interrogator" by its developers, the system links up to ten different human organ chips—miniaturized microfluidic devices containing living cells that mimic the function of the organs they represent, such as intestine, heart or lung—and maintains their function for up to three weeks. In two experiments, the system successfully predicted how a human body metabolizes specific drugs.
The technology, described in two papers published this week in the journal Nature Biomedical Engineering, was developed by Donald Ingber and colleagues at Harvard's Wyss Institute for Biologically Inspired Engineering.
"This is a wonderful technology for the field of organ-on-a-chip," says Yu Shrike Zhang, a bioengineer at Harvard University Medical School and Brigham and Women's Hospital in Boston, who was not involved in the research. A platform that automates the culturing, linking, and maintenance of multiple human organ-on-chips, all while inside a sterile incubator, "represents a great technological advancement," says Zhang, who last year wrote about the promises and challenges of organ-on-a-chip systems for IEEE Spectrum.
In 2010, Ingber and colleagues reported the first human organ-on-a-chip, a human lung. Each chip, roughly the size of a computer memory stick, is composed of a clear polymer containing hollow channels separated by a permeable membrane: one channel is lined with endothelial cells, the same cells that line human blood vessels, and another hosts organ-specific cells, such as liver or kidney cells.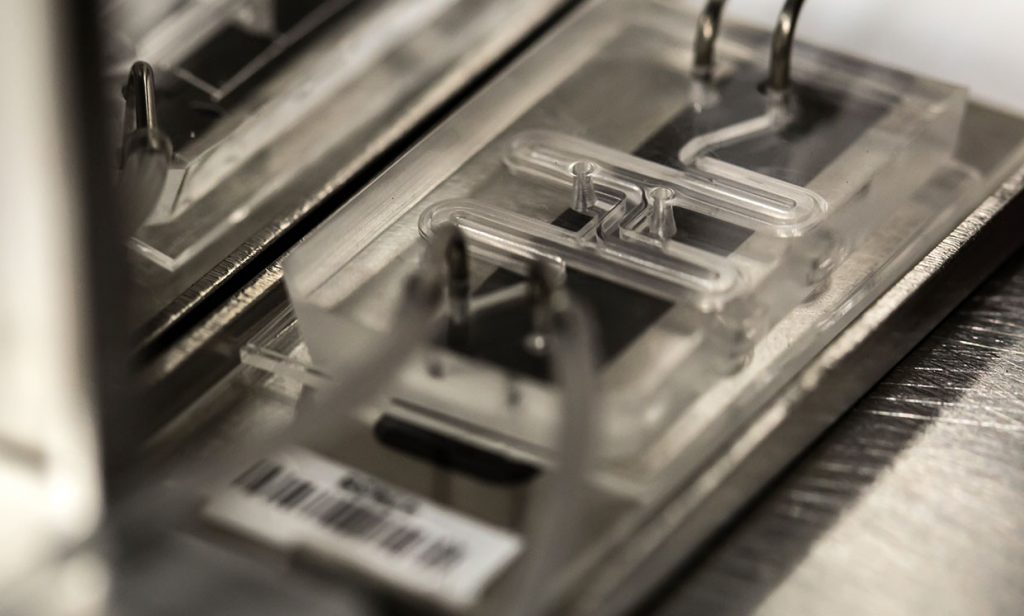 After creating numerous individual organ chips, Ingber received a 2012 DARPA grant worth $37 million to integrate 10 organs-on-chips and use them to study how drugs are absorbed and metabolized in the body.
Eight years and three prototypes later, the team succeeded. The most recent version of the platform took four years to develop, says Richard Novak, a senior staff engineer at the Wyss Institute who worked with a team to build the machine. Within that time, a whole year was needed to develop a user interface that biologists with no programming experience could easily operate.
"It enables a really complex experiment to be set up in two minutes," says Novak.
The "Interrogator," as Novak fondly calls it, consists of a robotic system that pipettes liquids—such as a blood substitute and/or a drug of choice—into the channels; a peristaltic pump to move those liquids through the microfluidic chips; custom software with an easy drag-n-drop interface; and a mobile microscope to monitor the chips and their connections without having to manually reach in and take out each chip for examination, as was done with older systems.
Best of all, says Novak, the whole machine fits into a standard laboratory incubator, which maintains living cells at constant temperature and light conditions.
Finally, the team was ready to interrogate the Interrogator. Could the system truly mimic the human body in a drug test? To find out, the scientists connected a human gut chip, liver chip, and kidney chip, then added nicotine to the gut chip to simulate a person orally swallowing the drug (such as if a person were chewing nicotine gum). The time it took the nicotine to reach each tissue, and the maximum nicotine concentrations in each tissue, closely matched levels previously measured in patients.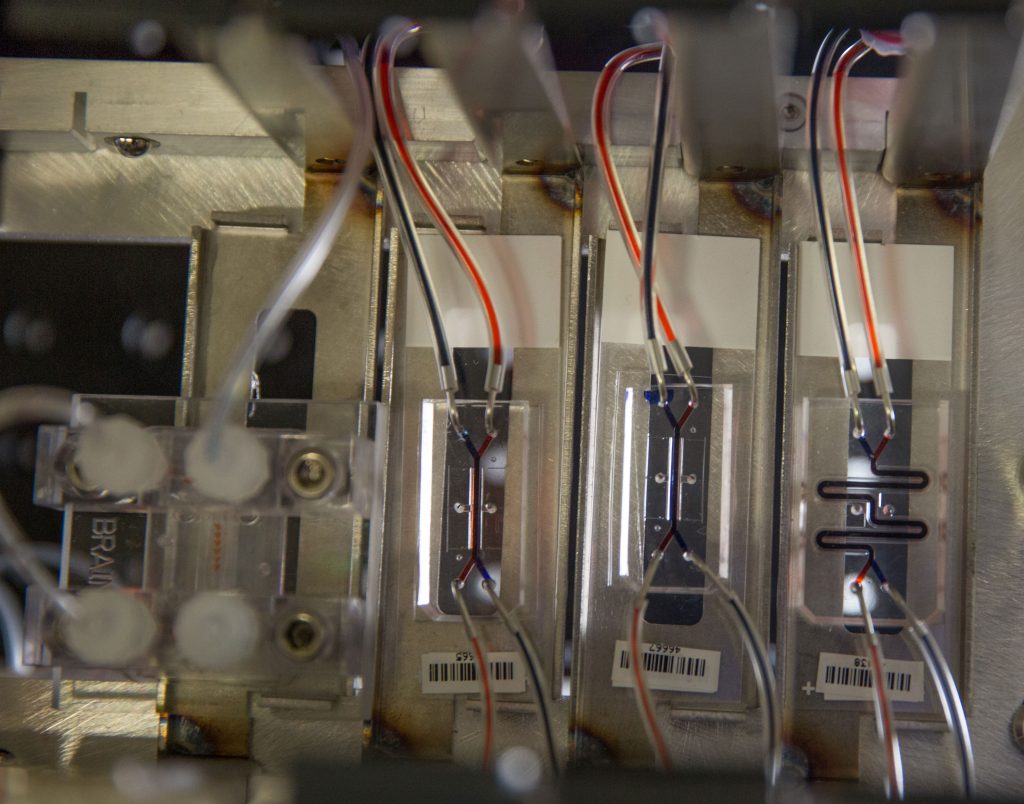 In a second test, the researchers linked liver, kidney, and bone marrow chips and administered cisplatin, a common chemotherapy drug. Once again, the drug was metabolized and cleared by the kidney and liver at levels that closely matched those measured in patients. Cells in the kidney chip even expressed the same biological markers of injury as a living kidney does during chemotherapy treatment.
"Compared against clinical studies, they matched up really nicely," says Novak. The team is now using their linked organ chips to study the gut microbiome and influenza transmission. The Interrogator technology IP has been licensed by a Wyss Institute spin-off company, Boston-based Emulate, which Ingber founded.
source: www.spectrum.ieee.org